Luck with Neeklanth-Auspicious Bird of Heaven
on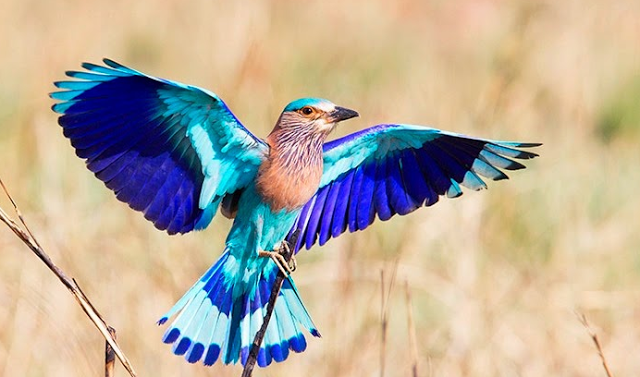 Today is 1 October, 2017 the next saturday morning of Vijay Dashmi. My WhatsApp messages were flooded with images of Neelkanth bird.
Today, I also saw a brilliant blue green coloured flying creäture enjoying morning sun, sitting on a branch of tree hanging down to my balcony. I went inside, got my spectacles to look it up, and true to my imagination oh my god I truly saw Neelkanth. I was so much delighted by the vibrant colours. But latter on I got to know that the bird was white breasted kingfisher.
Coincidentally, in today's newspaper also, I read an article about Neelkanth to throw some light over the drastic decrease in the number of this species.
Neelkanth is an auspicious bird. Neelkanth means "blue throat" a name which is associated with Lord Shiva who drank poison during sagar manthan, resulting in blue throat.
English name of Neelkanth is "The Indian roller" .This heavenly bird is said to be sacred to Lord Vishnu and used to be caught and released during festivals such Dusshera and Durga pooja.
In north India, there's a saying when people spot it: "Neelkanth tum neele rahiyo, dudh bhaat ka bhoj kariyo, hamri baat Ram se kahiyo (Neelkanth, you stay blue, feast on rice and milk and convey our wishes to Ram)."
It is very common in the populated plains of India. Indian roller has been chosen as the state bird by Andhra Pradesh, Odisha, Karnataka and Telangana.