My First Experience of Making Khandwi or Khandvi
on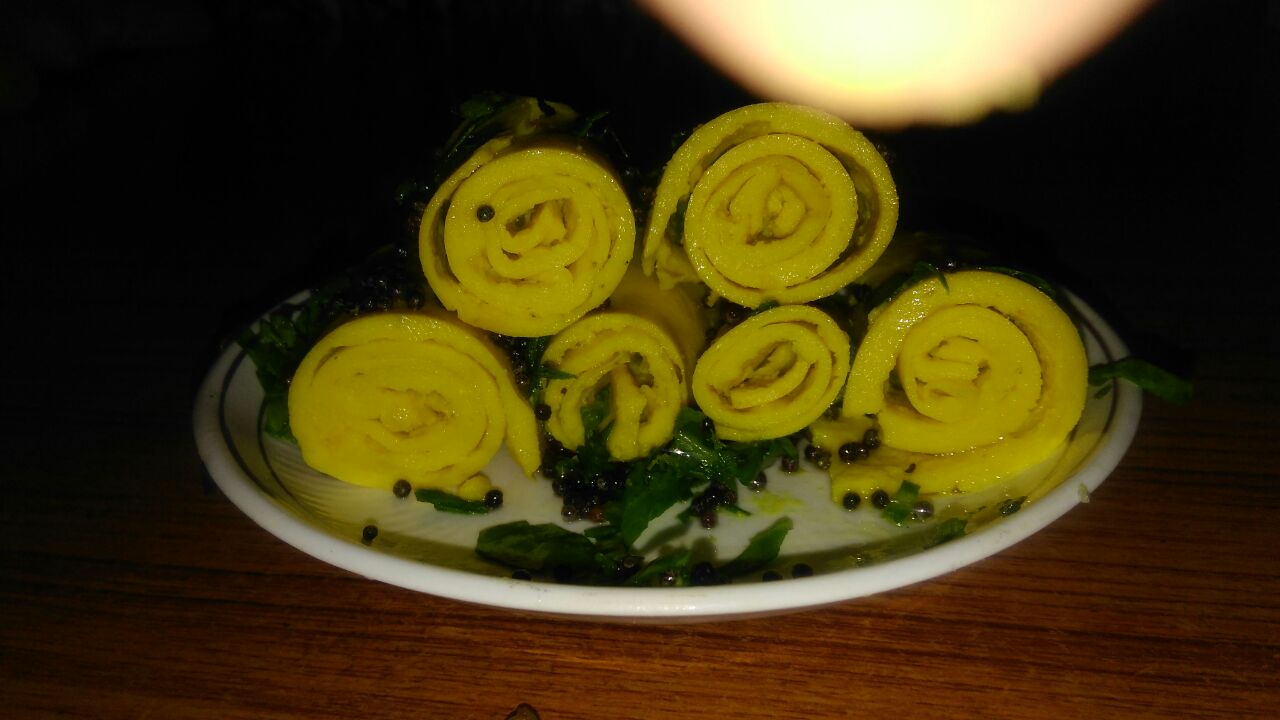 I just love Gujarati recipes. They fit into every category of food you can think of: light, easy to digest, mildly  spiced- good for your tiny souls, lip smacking, quick to make with few ingredients and high in nutritional value.
In Gujarati recipes are  predominantly vegetarian due to influence of Jainism philosophy. Sugar , tomatoes and lemon  are used very often, amalgamation of sweet and sour flavours is just enough to satiete all taste buds. Flamboyant colour of dishes are real treat to eyes.The prominence of ingredients like besan or gram flour, lentils, sesame seeds, mustard seeds and curd is another feature that stand Gujarati dishes apart.
Today I made khandwi for the first time , not cent percent like traditional khandwi, but tasted awesome. Practice makes a person perfect. But I was so much carried away by the taste of khandwi, bound to share  recipe with you.?
Khandvi are small thin rolls  made with a mixture of gram flour and buttermilk.
Ingredients ( 1cup = 100gms)
How to Make Khandvi Batter?
1 cup besan (gram flour) or 100 gms besan
1 cup sour curd, about 100 gms
2 cups water, 

to be mixed with the curd 

1 teaspoon ginger  paste
¼ teaspoon 

turmeric powder

(haldi)

⅔ teaspoon 

salt

 or as per taste
1 pinch asafoetida (hing)
What is Needed for khandvi Tempering/Seasoning?
1 tablespoon oil
8 to 10 curry leaves (kadi patta)
1 teaspoon mustard seeds (rai)
2 teaspoons white sesame seeds(safed til)
1 teaspoon green chili (hari mirch), chopped or ½ red chilli powder
Recipe to Make Khandvi
Khandvi rolls:
Take the curd in a bowl, add water and stir well till smooth.

Add ginger paste, turmeric powder, asafoetida and salt.

Add the gram flour/besan to curd , keep on stirring and mixing till all the lumps are dissolved to get a smooth batter.

Spread oil/ghee on steel plates or boards or tray.

Pour the batter in a heavy bottomed kadhai or sauce pan or a broad frying pan.Keep the flame to the lowest and  stir continuously so that the lumps don't form in heated batter and batter doesn't stick to the bottom.

The batter would thicken and keep on thickening. keep on stirring.

When the batter has thickened well,it's time to take plate test.

Spread a few teaspoons of the batter on a greased plate.When it cools down, begin to roll. If you are not able to roll, then the batter needs to be cooked more.

It took me 25 minutes to get the correct consistency on a low flame.

Quickly pour about ½ to ⅔ cup of batter on a large plate and spread thinly & evenly with a spatula.

Cut into equal sized strips and gently roll each strip tightly.

Enjoy with corainder chutney or sause
Tempering/Seasoning:
heat oil and crackle the mustard seeds.

then add curry leaves, green chilies and fry for a few seconds.

pour the hot tempering mixture along with the oil on the khandvi rolls evenly.
Tips to follow While Making Khandvi
Look for the accurate consistency of khandwi batter. Thick  consistency makes spreading of the khandvi mixture  difficult
Be quick in spreading the cooked khandvi batter,delay may thicken batter  as it cools and becomes lumpy while spreading.
In case of fresh yogurt,  add the sourness, add about ½ tsp of lemon juice.