10 Simple Vastu Tips for Home
on
What is Vastu?
Vastu is an ancient old Indian science which helps in setting things or architecture of a house or office in an order to bring wealth, happiness and health.
Vastu is a vast science which unifies art, astronomy and astrology. It helps making our lives better and organise in such a way that we are secured when something goes wrong.
Vastu is the science of directions and placement of things. It combines all five elements of nature. The five elements are earth, water, fire, air and space or zero. When all these five elements are in balance, the prosperity and happiness is attained.
Vastu is a science and Feng Sui is an art of harnessing energies by activating weaker areas.
Role of Directions in Vastu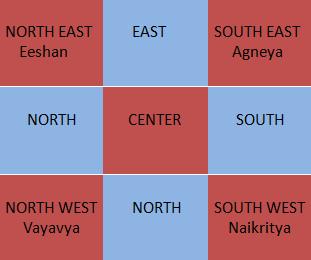 The sun rises in the east and sets in the west.
Based on this there are eight directions which play a very important role in designing a house or office.
The eight directions are East, West, North, South, North-East, East-South, South-West, and West-North. Every direction is significant in it and plays an important role.
Vastu should be followed from the beginning i,e from purchasing a house of a plot to the shifting to a new place.
Also Read: Tips to bring luck this Diwali
Vastu for home
A home is a place where one finds solace and seeks happiness with family. The whole day tiredness and worries of the world just vanish away when we reach home in the evening. We find peace and love at home and all the family members live together and think for the betterment of each other.
But many times a home becomes a place of quarrels and fights. Family members do not talk with each other and try to fight even on small topics.
The face of a house and directions of all its interior and exterior space should be as per the Vastu rules.
10 simple Vastu tips for home