Great Breakfast Ideas Perfect For the Whole Family
on
The best breakfast can help you and your family start the day the right way. Deciding what to eat for breakfast can sometimes be challenging, and there are certain breakfast meal ideas that you might not have thought of that can work well for your family. Here are some breakfast ideas that can be great for the whole family.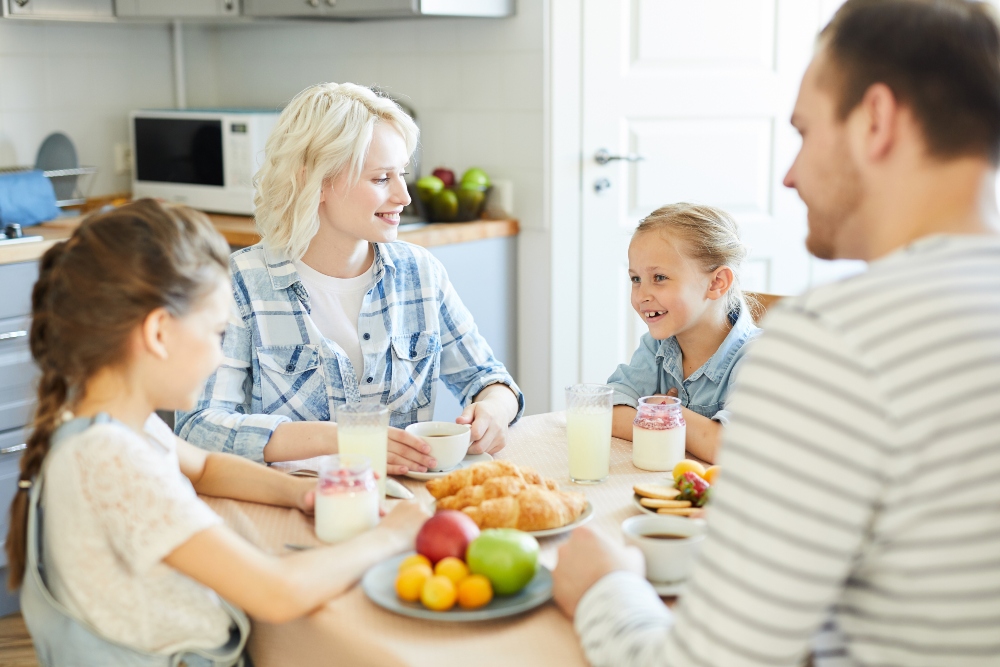 Spinach and Feta Breakfast Burrito Wraps
Everyone in your family can get a healthy dose of protein along with other healthy vitamins and minerals by eating these delicious wraps. Scrambled eggs can work perfectly for these burritos, and you can scramble two eggs to go with each burrito. Kalamata olives along with ¼ cup of feta cheese and 1 ½ tablespoons of diced butter can be combined with the scrambled eggs and rolled in a tortilla shell. The Spruce Eats also suggests adding ½ cup of roughly chopped fresh spinach to your filling along with a few dashes of salt and pepper to taste.
Fruit Smoothies
Fruit smoothies can be helpful on days when you don't have a lot of time to prepare breakfast and sit down to eat. Berries, bananas, and other fruits can be combined in a blender to create tasty and nutritious smoothies that are easy to drink at home or on the go. To give your smoothies their creamy texture, try adding some vanilla yogurt made from whole milk into your blender and mix it with the fruit. A cup of milk and a tablespoon or two of honey can also be added to enhance the taste and texture of your smoothies even more.
Banana Bread Bars
You can prepare these bars ahead of time and have them ready for your next family breakfast. These potassium-rich bars can be made with three to four peeled bananas, six pitted chopped dates, and one cup of toasted wheat bran. You'll also want to add 1 ½ cups of liquid white eggs when mixing the ingredients. A cup of toasted walnuts, some cinnamon, and ½ teaspoon of salt (optional). After mixing all the ingredients to create a batter, place the batter into an oven-safe pan and bake at 300 degrees Fahrenheit for about 70 minutes. You'll know it's done baking when you don't see any more bubbliness or shininess on the batter. After the bread has been removed from the oven and allowed to cool, you can then cut bars into pieces that are sizes of your choice.
Unique Cereals
If everyone in your family is tired of oats and milk in a bowl, you can experiment with different types of cereal for more variety. It's possible to find cereals that have churro, donut and even birthday cake flavors that can add some uniqueness to breakfast. If you want something healthier, you can try serving your family the best muesli brand that you can find that contains organic ingredients, such as crumbled dates, raisins and coconut, and no GMOs.
Avocado Toast
For something light and simple, try making this toast to get your family's day started off right. Each toasted slice of bread that you make can be topped with a tablespoon of unsalted butter, ½ ripe avocado (peeled, sliced and seeded), a tablespoon of olive oil and a tablespoon of sesame seeds. To give your toast some extra spice, you may choose to add ¼ teaspoon of crushed red pepper flakes. Kosher salt and freshly ground pepper can also be sprinkled on each slice to taste.
Sausage Gravy and Biscuits
Even though it's messy, this breakfast dish is sure to fill up your family. One 16-ounce can of refrigerated jumbo biscuits and a package of sausage crumbles that are sold in stores can be combined with ¼ cup of flour and 2 ½ cups of milk along with a pinch of salt and ground pepper to make this hearty breakfast. Follow the directions on the packaging to bake the biscuits and cook the sausage. Once the sausage is cooked, it can be combined with the milk and flour and stirred and heated together until the mixture boils and then sit for another two minutes to simmer on medium-low heat. The sausage gravy can then be added to your sliced biscuits.
These terrific ideas are sure to leave you inspired and make you more enthusiastic about preparing your next family breakfast. Whether your family wants something that's rich and filling or simple and light, these ideas can help you create the ideal breakfast.