Hornbill Festival – Nagaland must Visit
on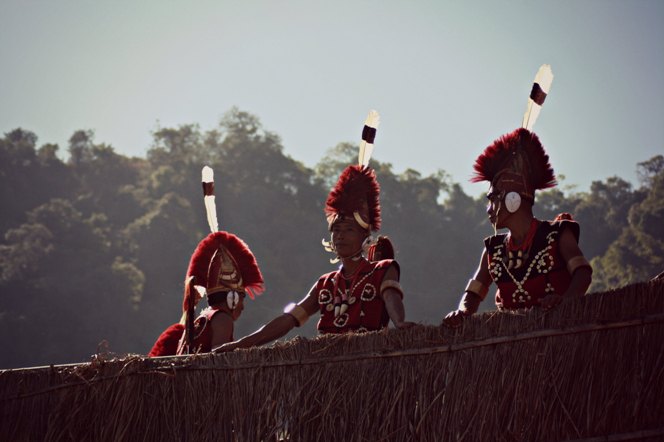 Nagaland-the-Switzerland of the East India is blessed with a rich cultural heritage which is being passed on to the generations, unamalgamated by modernization. Nagaland is the land of 16 tribes, each owns and follows unique culture, languages, custom and rituals. Even tribes have their own set of festivities. But the one festival that brings all tribes under one roof is the Hornbill festival.
Importance of Hornbill festival for Nagaland Tourism
Hornbill festival is the must watch part of Nagaland tourism. Hornbill festival means 'Festival of Festivals' and is organized by the State of Tourism and Arts of Culture Department, Government of Nagaland. Its main goal is to encourage harmonious inter-tribal relationships and showcasing their cultural diversification and protecting and reviving rich age-old heritage.
Though the state bird of Nagaland is Blyth's tragopan which is an endangered species of the pheasant but the colorful Indian Hornbill is part of the folklore of almost all tribes of Nagaland.
Hornbill was commonly found half a century ago in the state. But unfortunately, their numbers have thinned down drastically, leaving only one alive hornbill today! The only known Great Hornbill alive today in Nagaland is named 'Julie' which is kept at the State's Zoo, Nagaland Zoological Park.
History of Hornbill Festival
The Horbbill festival was first held in the year 2000. It is then every year celebrated at the Naga Heritage Village in Kisama, located around 12 kilometres from the capital of the Nagaland, Kohima.
Kisama is an open-air museum that showcases various aspects of Naga life — from homes to morungs (or bachelor dormitories) — Kisama offers a fascinating insight into the life and culture of the various Naga tribes.
Highlighsts of the Celebrations of Hornbill Festival
Celebrations of the festival starts on 1st December, commemorating status of statehood on this day.
This festival is a perfect melange of cultural richness and diversity, and comprises of ten days long celebration which usually culminates at 10 December.
Hornbill festival is one of the biggest festivals of the state celebrated with full enthusiasm. Traditional music, handicraft, folk dance and songs and games are organized in the festival. Festival highlights include Traditional Naga Morungs, exhibition and sale of arts and crafts, food Stalls, herbal medicine stalls, flower shows and sales,  fashion shows, Beauty Contest, traditional Archery, Naga wrestling and indigenous Games.
Evenings are made lively by the thrilling Hornbill National Rock Concert, participated by bands from all over the country and abroad. This is followed by the amazing Night Market in the town. But the most remarkable event at the festival is Naga chilly eating competition and pork eating festival which draws a lot of crowds and evokes much fanfare and excitement.