Mother Putlibai Influence on National Father Bapu
on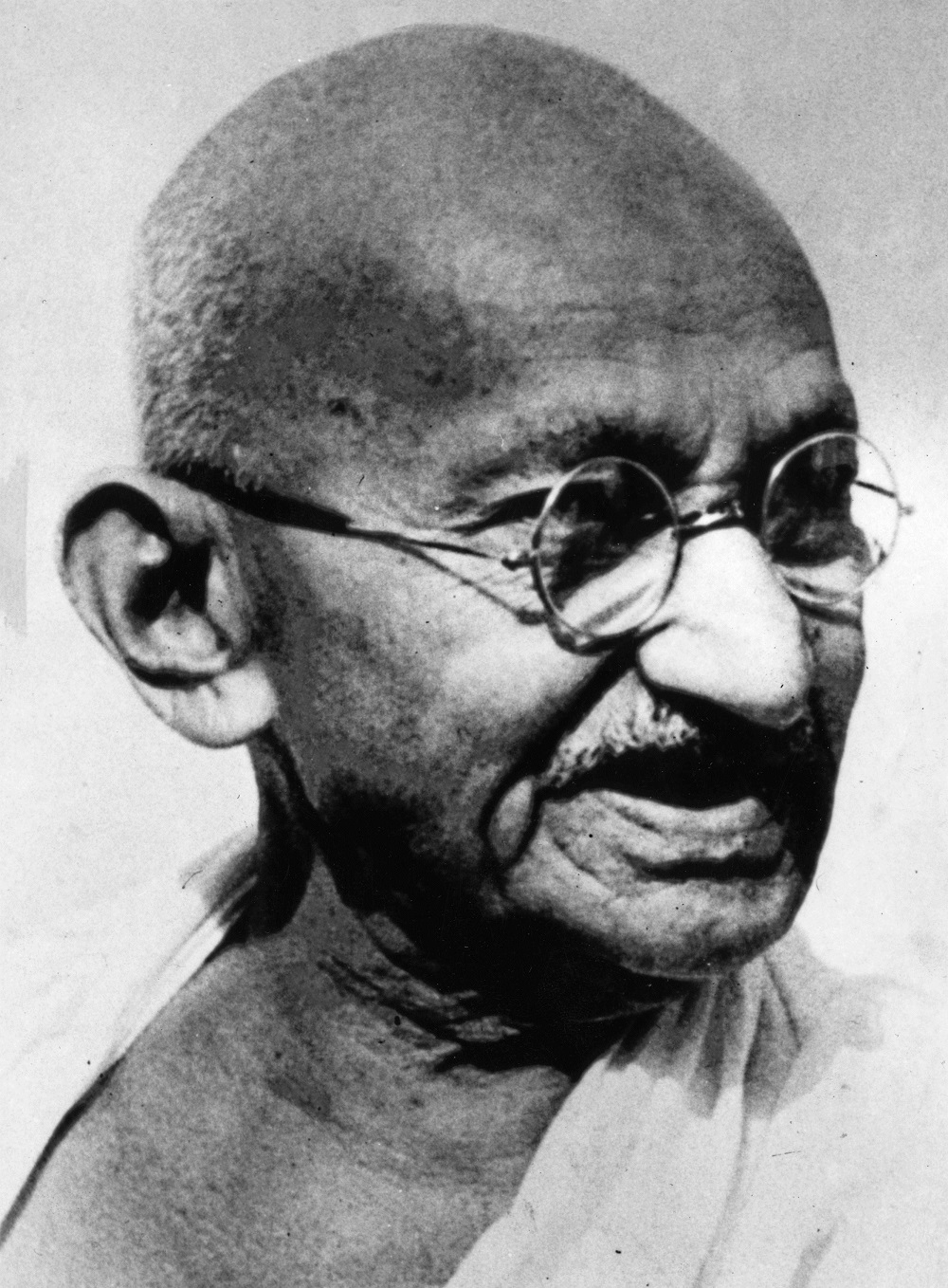 Mohandas Karamchand Gandhi was the full name of "Bapu Ji" who is our National Father also.  He was born on 2 October, 1869 in Porbander district of Gujarat to Karamchand Gandhi and Putlibai. He was the youngest of his three brothers. His house where he took birth and brought up is famously known as "Kirti Mandir" in today's time.
Gandhi ji attained his primary and higher education from Rajkot. He was a normal student since beginning and used to be very shy and extremely introvert. But he was known for his hard work and strong will power then also. He was very punctual and strong in his ethics and moral values. It is said that the life of Bapu ji was highly influenced by the teachings of his mother, "Putlibai".
Early Life and Education of Mahatma Gandhi
Gandhi ji was a very simple and ordinary student since very beginning who did not have any interest towards sports. He would always prefer living alone and did not have any friends. He did not have any special interest towards books other than his syllabus ones.
But one thing that remained with him forever is the respect he would always give to his teachers. He never copied in his exams to get more marks. A one such incident is famous in his childhood where his teacher asked him to copy something but he refused as he would consider this as a crime.
Out of his all brothers, Gandhi ji was more closed to Laxmidas. His father died in the year 1885 when he was in the school. He had taken admission in Samaldas Mahavidyala school but did not like the atmosphere. After the death of his father Gandhi ji wanted to go for higher education as everyone suggested him to do the same for the betterment of his career.
He wanted to go out of India to get his education in Law but his mother did not allow him at first. But seeing his strong will to go, she allowed her but took three promises also.
Three Promises that Bapu ji mother took from him were that he would stay away from "Alcohol", "Woman", "Non Vegetarian food". Bapu ji promised her and fulfilled also the same throughout his life.
Life of Bapu ji in South Africa
Gandhi ji went to South Africa to have higher education in law. It was turned out as a turning point in his life.
South Africa was famous for racism and discrimination with the people with black skin especially Indians and Africans who would have dark complexion.
He started practicing in South Africa and joined a businessman named Abdullah in his law advisory.
Famous incidents of Gandhi ji in South Africa
There are two such famous incidents related with Gandhi ji life:
One incident was when the judge in Durban court asked Gandhi ji to put off his pagadi that he would normally wear on his head. But Gandhi ji refused it and walked out of the court.
Another racism incident happened to Gandhi ji on 31 May 1889. He was travelling in the first class of train going to Pritoria. The white people asked him to shift to  another class seats but he said he was travelling with a valid ticket. The white people threw him out of the train, and he had to spend the entire night shivering in the waiting room of station. This was another turning point in the life of Gandhi ji and he took a pledge to fight for Indians by staying in South Africa. He fought with peacefully and protested the discrimination which was famous with the name of "Satyagrah".
Contribution of Bapu Ji in India
Due to his contribution and initiatives only, white people started giving respect to black skin people.
Gandhi ji returned to India but continued his fight for justice here also. India was under the control of English government that time. He started his first Satyagrah from Champaran district of Bihar in 1917.
He had to face a lot of protest from Indian government that time. When he started his satyagrah in Champaran, he was asked to get out of the district by the district administration which he refused. The case was filed against him but he was later released without putting any charge on him. This was his beginning towards satyagrah movement in India.
Followed by this, he initiated many movements. One such movement was "1920 Non Cooperation  movement". The movement was led by Gandhi ji and Indian National Congress. Many Indians returned their honours received by the government and lawyers stopped practising.
Another movement called "The dandi movement" of Gandhi ji proved to be a revolution but it was stopped in between after the case of Chaura-Chauri happened.
Gandhi ji also published two newspapers, "Young India" and "Navjivan" to create awareness among masses.
Putlibai had a great influence on Mahatama Gandhi
Mother of Bapu ji, Putlibai was a very simple lady with great religious thoughts. She had dedicated all her life to the happiness of her family. She had a great impact on the nature and personality of Gandhi ji. It is said that she had a great impact and influence remained on Gandhi ji's entire life.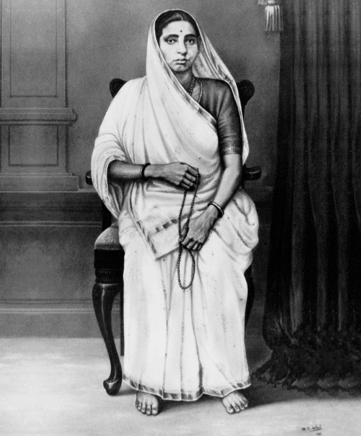 Mahatma Gandhi was mainly influenced by two things in his life ;mother Putlibai and Raja Harishchandra.
He would love and admire the way Raja Harishchandra came out of the difficulties in his life without leaving the path of truth and honesty. At the very early age he decided to follow the path of Raja Harishchandra.
It is very difficult to walk on the path shown by Gandhi Ji but not impossible.
Death of Mahatma Gandhi
With the efforts of Mahatma Gandhi and other freedom fighters, India got independence on 15 August, 1947.
He was going for a prayer meeting with his grand nieces on 20 January 1948. It was 5:17 pm when Nathuram Godse fired three bullets from a pistol at point-blank range. He died on the spot and the last three words uttered thrice from his mouth were "Hey Ram".
Some people say that he did not die on the spot but was carried inside the Birla House, was lied on a bedroom and died about 30 minutes. Nathuram Godse who assassinated Bapu Ji was an advocate of Hindu nationalism.
Autobiography of Gandhi ji
Gandhi ji wrote a biography on himself, "The story of my experiments with truth". It was published in the year 1927 and later published in many other Indian and foreign languages.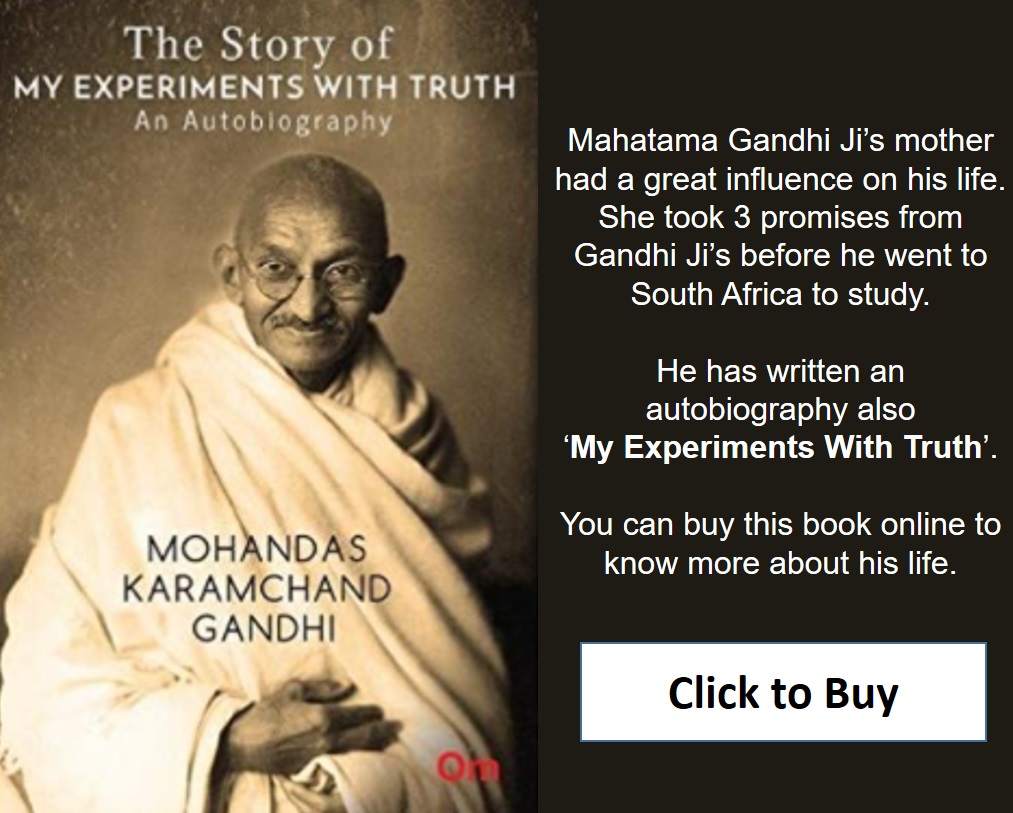 Swachh Bharat Mission
On 2 October, 2014 Prime Minister Narender Modhi initiated Sawachh Bharat Mission to celebrate Gandhi ji's birth anniversary. The compaign run by Government of India is targeting to keep the streets, roads and infrastructure of the country clean by encouraging more people to join the drive. Many celebrities have already joined with the compaign but more people are required to be aware and consequences of not keeping cleanliness.
Mother #Putlibai had a great influence in the whole personality of Bapu and took 3 promises to send him to SA https://t.co/N880nul2Dv pic.twitter.com/pHj3NJClcp

— omilights (@omilights) October 2, 2017
Paid tributes to Mahatma Gandhi at Raj Ghat. pic.twitter.com/999kbeS6gF

— Narendra Modi (@narendramodi) October 2, 2017
Tributes on the birth anniversaries of Mahatma Gandhi and Lal Bahadur Shastri ji.
Aptly also, International Day for Non- Violence pic.twitter.com/d3yZKjTBzX

— Virender Sehwag (@virendersehwag) October 2, 2017