National War Memorial in Delhi, India and its four walls
on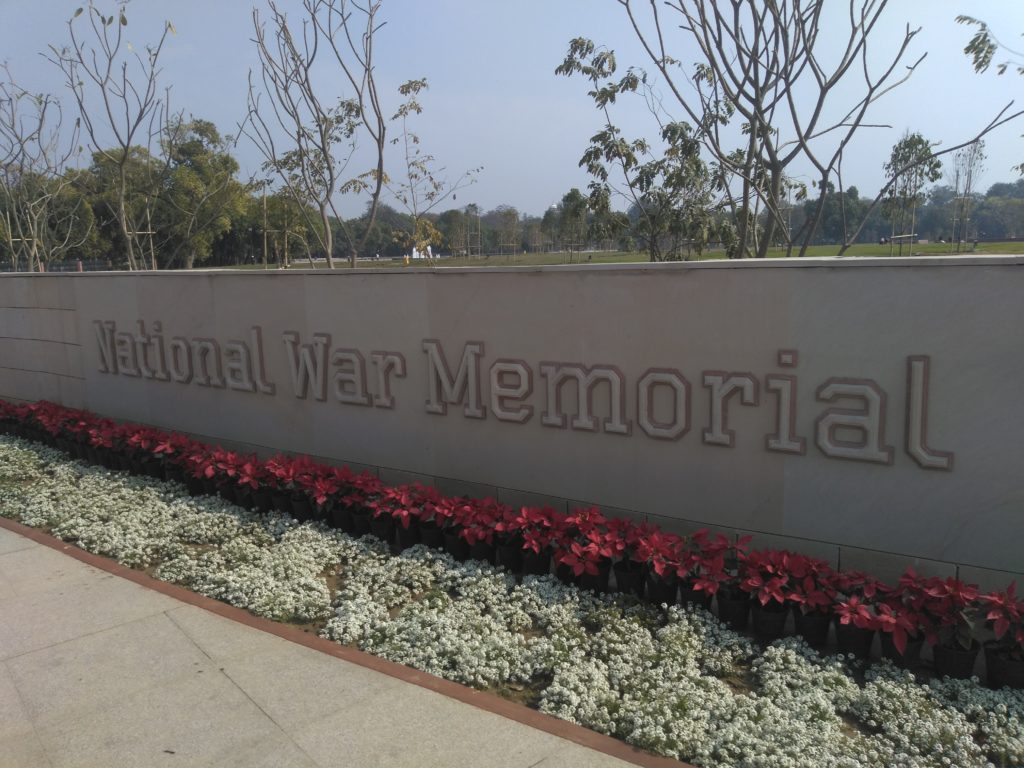 Two emotions are capable of moving pan India-Our forces and Cricket. Our military and paramilitary forces are like a thread which holds every Indian into one nation and one emotion-Patriotism. It should be our priority to pay tribute to people who serve us beyond human calibre in the most incompatible and rough conditions.
Prime minister of India Shri Narender Modi inaugurated and dedicated National War Memorial to the nation, erected in the vicinity of the India Gate, New Delhi on 25 February 2019.
This memorial could be accomplished after 60 years of its proposed time period. India has memorials etched with the names of our brave soldiers earlier too, but all were erected before 1947, before independence.
The India Gate is a war memorial, originally called the All India War Memorial, built by British rulers to commemorate the sacrifice of 70,000 Indian soldiers of British Indian Army in First World War (1914-1921) in France. It was designed by Sir Edwin Lutyens.
History of National War Museum
In 1972, after the Indo-Pak war for Bangladesh Liberation, Amar Jawan Jyoti, or the Flame of the Immortal Soldier has served as India's Tomb of the Unknown Soldier. Shrimati Indira Gandhi, then Prime Minister of India, inaugurated Amar Jawan Jyoti on 26 January 1972. Since then this undying flame of Amar Jyoti displays an honour to the valour and sacrifice of unsung heroes of Bangladesh liberation war. Amar Jawan Jyoti is erected on a black marble plinth, with reversed L1A1 Self-loading rifle, capped by war helmet, bound by four runs.
The Chief Architect of the National War Memorial is Ar. Yogesh Chandrahasan of WeBe Design Lab, Chennai who got the opportunity to design the memorial after a global design competition. He also quoted, "The whole concept is based on the thought that the war memorial should be a place where we don't mourn death, but celebrate the life of the soldiers and pay respect to the sacrifices made by them."
Spread over 40 acres, the war memorial is constructed as four concentric walls, each signifying values of our defence forces, an elaboration of the Dharma chakra – the eternally turning wheel of duty, law and righteousness.
Adjacent to the main complex lies a tribute to the 21 Param Vir Chakra awardees at the Param Yoddha Sthal. Though a national war memorial is a place to pay respect to a soldier who sacrificed his life in the line of duty. This memorial shall invoke a feeling of patriotism in everyone, especially youth. But, a real tribute to martyrs is to complete the dream they wished to accomplish- Beautiful, prosperous, progressive, united and powerful India.
Everyone is not able to join forces to pay their debts back to the motherland. But, be sincere in your work and love your nation. Try to make difference from the place you are. Every small effort can create a huge difference. I remember the lesson of 9th standard NCERT book Mein our Mera Desh, which left a deep impact on my subconscious mind. This lesson taught me two things, every citizen needs to follow to contribute to the nation's prosperity.
Shakti Bodh (

The realisation of power). Never underestimate the power of your nation.  Never criticize your country in a foreign land, shall weaken a nation. 

Saundarya Bodh (The realisation of beauty, cleanliness). Keep your surroundings clean.
No nation is flawless. Who will bring change? Outsiders? No, if you want to improve your standards of living, you must work on your own.
Four Walls of War Memorial
Rakshak (Protector) Chakra
Outermost construction serves the theme of Rakhsha comprising of rows of more than 600 trees, depicting our soldiers, ready to guard us day and night.
Tyag (Sacrifice) Chakra
Tyag Chakra inside the Rakshak chakra, made entirely of granite bricks, each plaque is bearing the name of a fallen soldier since Independence. Names of 25,942 of soldiers with their IDs and regiments are inscribed in golden colour on the walls of the memorial, laid their lives during the Indo-China war of 1962, Indo-Pak war of 1947, 1965, 1971 and Kargil Conflict of 1999 and India's Peacekeeping Force Operations in Sri Lanka.
Veerta (Bravery) Chakra
Inner to tag chakra is Veerta Chakra with six bronze murals depicting different battle actions. Each mural weighs between 600kg and 1,000kg, depicting famous battles fought by the armed forces and carved by renowned artist Ram Sutar, who had also designed the 182-m 'Statue of Unity'.
The battles depicted in bronze relief works are — Battles of Gangasagar, Longewala, Tithwal, Rizangla, and Operations Meghdoot and Trident.
Amar Chakra ( Circle of Immortality) 
The obelisk stands in the centre at a height of 15.5 metres and is visible even from a distance as one enters the complex. At the top of it lies the lion capital sculpted in bronze. The eternal flame is lighted at the bottom of the obelisk showing the undying spirit of our fallen soldiers.
What is the Entry Fee for visiting the National War Memorial in Delhi?
There is no entry fee as such currently to visit the National War Memorial in Delhi.
What are the Timings for National War Memorial?
Not more than 250 people are allowed to enter memorial at one time. The memorial is open on all days of the week, the timings for the War Memorial Delhi:
Winter  9 am to 6:30 pm.
Summer, April onwards 9 am to 7:30 pm.