Recipe to Make Himachali Arbi Patrode or Pathrode
on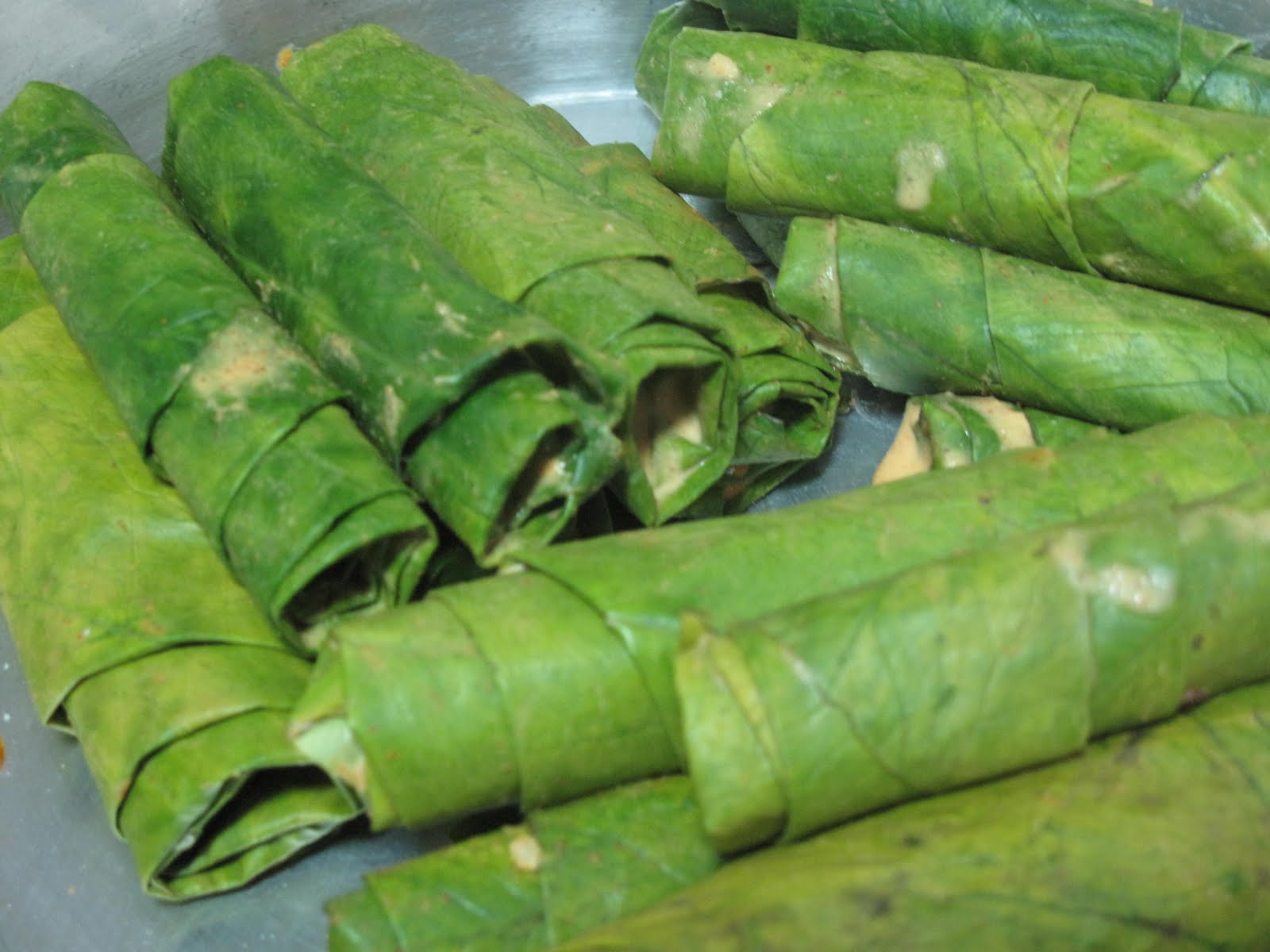 Pathrode or patrode is a very famous delicious snack of Himachal Pradesh. Pathrode are made from Arbi ke patte or Colocasia leaves. Arbi is also known as arvi, kachhu or kachalu in hindi and Colocasia (Colocasia esculenta), elephant ear or taro in English. It is also known as ghandyali in Himachali language. It is one of  the most ancient cultivated crops known in the world.
Also Read: Dev Bhoomi Himachal Pradesh
Various parts of Arbi plant of  are eaten by making different dishes. This recipe is prepared by using  besan (gram flour) and Colocasia  leaves. The leaves are wrapped around the mixture of besan and spices, made into tiny cylinders or rolls, steamed and cut into slices which can be deep or shallow fried.
People from western India make a similar dish called Patra. Pathrode or patrode is also familiar by the name of Patravadi,  Chembilai Palaharam or Patravade in southern part of the country where they use rice instead of besan.
Pathrode/Patrode Recipe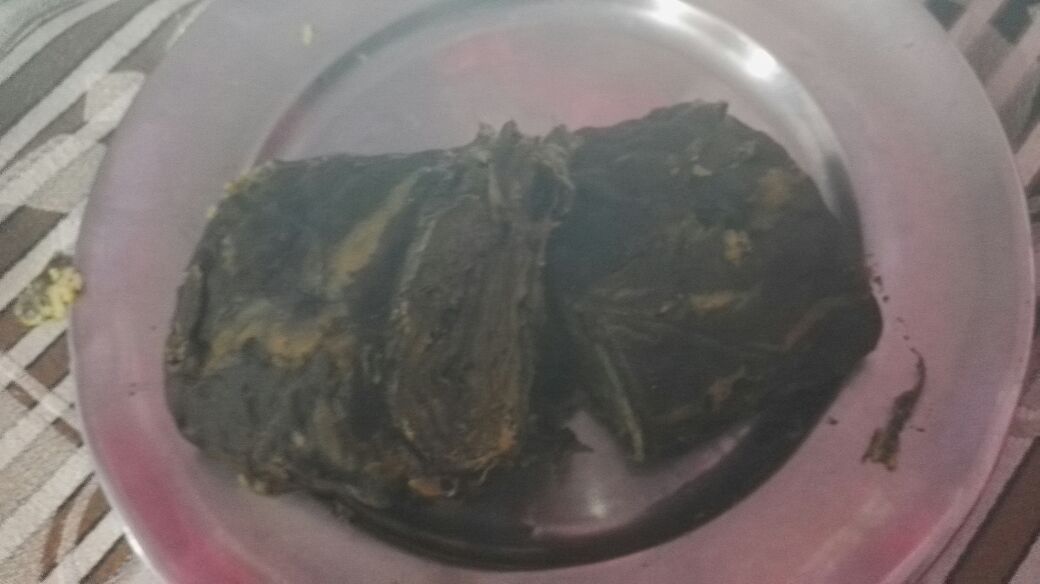 Preparation time: 1 hour
Cooking time: 1 hour
Serves: 6
Ingredients: (measuring cup used = 250ml)
Medium size Colocasia leaves – 24
Besan -2 cups
6 – 8 red chilli (medium size)
Coriander powder 2 tsp
Cumin  or jeera powder 2 tsp
Haldi/ turmeric 2 tsp
Red chilli powder 1 tsp
Heeng/Asfoedeta  1 pinch
Salt as per your taste
Water 2 glasses for steaming leaves and mixing besan paste
Oil for frying
How to make Pathrode/Patrode?
Take fresh medium size edible leaves. Wash them properly. Strip the stem and center of leaf.
Prepare thick batter ( Dosa batter like consistency) – take besan in a container add all ingredient mentioned above by adjusting amount of water.

Now on a clean surface keep a big colocasia leaf upside down. Apply the thick batter all over the leaf. Keep another leaf and again apply paste.Layer with atleast three leaves.
Now fold the leaves from both sides. Apply the paste again.
Roll the layered leaves from one side to other side to form a cylindrical shape or rolls
Place two glasses of water in pressure cooker, boil the water, place idli maker and place rolls over it , steam them for forty five minutes on medium heat.
 Once they are cooked, let them cool, slice the rolls in vertical direction. You can go for shallow fry or deep fry.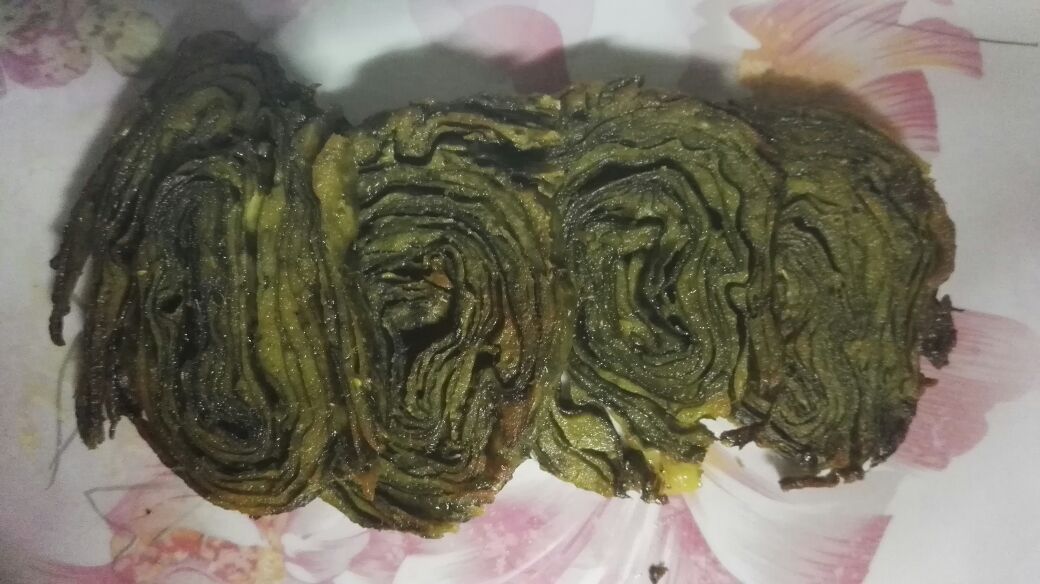 Quick Tips
– Alocasia and Colocasia leaves  are quite similar to each other. Remember rule of thumb, if the leaves point up, the plant is probably an Alocasia; if the leaves point down, it's probably a Colocasia.
-Only few varieties of Colocasia leaves (Kachaloo) are considered as edible. Even edible varieties of leaves may cause itching  in mouth and throat if consumed a raw or half cooked.Unedible varieties may itch. Leaves contain calcium oxalate crystals and other compounds which cause irritation and itching that are rendered harmless by cooking and by keeping the leaves in cold water overnight and disposing of the water.
-Calcium oxalate is highly insoluble and  lead to formation of kidney  stones. It has been recommended to consume calcium-rich foods like milk together with Arbi.
-Wear gloves if you have sensitive skin. Even if you don't  have sensitive skin but than too you can  wear gloves because the crystals sting after a while. I don't prefer to use gloves , so I scrub my hands with  some mustard oil.
– Instead of besan ,we can use 250 gms chana Dal soaked for four to five hours and grinded.
-If the leaves are not cooked properly, they might itch while eating. So do not compromise on cooking time.
-Instead of besan ,we can use 250 gms chana Dal soaked for four to five hours and grinded.
– You can  wrap Arbi rolls in turmeric leaves and the boil.Tumeric leaves, also are used extensively as aromatic herbs. Turmeric leaves are purported to improve digestion and reduce gas and bloating.
-You can cut rolls into slices as per requirement, keep rest in refrigerator which  can be used till three to four days.
---