Martyrdom of Ninth Guru of Sikh Tegh Bahadur-Supreme Sacrifice
on
"Give up your head, but forsake not those whom you have undertaken to protect. Sacrifice your life, but relinquish not your faith."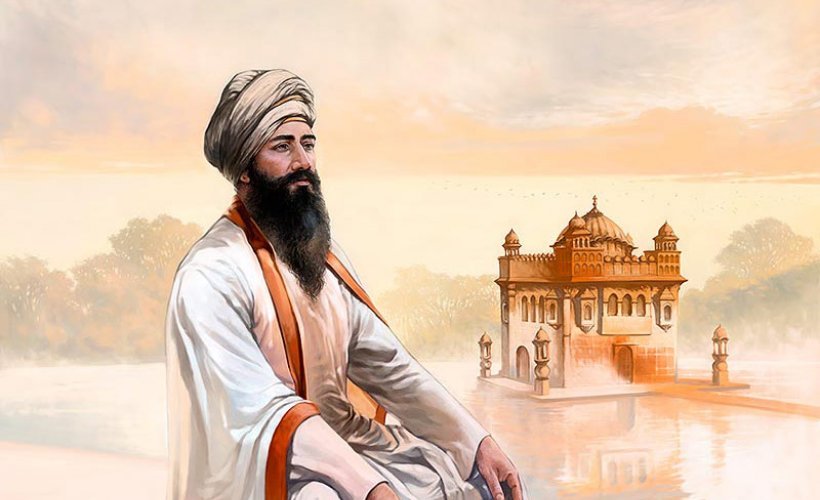 Sikh religion has been an epitome of dedication and sacrifice. Worldwide,  renowned for gallantry, courage and valour, credit goes to all nine human Gurus who took responsibility of shaping Sikh religion.
Ninth Sikh Guru – Guru Tegh Bahadur
The Ninth Guru, Guru Tegh Bahadur (1 April 1621 – 24 November 1675) is an example of supreme sacrifice. He not only molded his own religion but shielded Hindu Kashmiri Pandits from the atrocities of Mugal emperor who was forcing them to embrace Islam.
Guru Teg Bahadur chose to get beheaded on 24 November 1675 over conversion into Islam on the orders of Mughal emperor Aurangzeb  in Delhi. Thus, Guruji is often referred to as Hind Ki Chadar, meaning The Shielder of the Hindus.
Life of Guru Teg Bahadur
Guru Teg Bahadur, born as Tyaga Mal in Amritsar in the early hours of 1 April 1621, who came to be known by the name Tegh Bahadur (Mighty Of The Sword). His name was given to him by Guru Hargobind after he had shown his valour in a battle against the Mughals.
On 25 May, 1675 Pandit Kirpa Ram, the leader of the Kashmiri Pandits arrived in Anandpur Sahib (then called Chak Nanki, Kahlur) to ask Guru Tegh Bahadur for help in preserving the Hindu faith in Kashmiri. Guru ji addressed the Pandits, "Go and tell Aurangzeb that if he can convert Guru Tegh Bahadar to Islam, they will all convert. Otherwise, he should leave them alone.
11 July, 1675 Guru Tegh Bahadur sets off for Delhi. On 27 July, 1675 Guru Tegh Bahadur was taken into custody by Nur Muhammad Khan Miraza of Ropar Police post, on Savan 12,1732 at Malikpur Ranghran, Pargana Ghanaula, and sent to Sirhind. Guru Tegh Bahadur was kept in jail for four months in Sarhind, then transferred to Delhi in November 1675.
Martyrdom of Guru Teg Bahadur
Prior to Guru Teg Bahadur Martyrdom, three followers of Guru Teg Bahadur, Bhai Dayal Das, Bhai Mati Das and Bhai Sati Das were killed brutally. On 9 November, 1675 the qazi ordered that Bhai Dayal Das be seated in a cauldron of boiling water. On 11 November 1675 Bhai Mati Das sawn into two pieces and Bhai Sati Das was wrapped up in cotton wool and set on fire. All this was done to shake Guru Ji. But faith of Guru ji was unwavered. The Guru was chained and imprisoned in a cage and was tortured in the cruellest and the most inhuman ways.
On 24, November, 1675, Guru ji was publicly beheaded in Chandni Chowk, a market square close to the Red Fort. Gurudwara Sis Ganj Sahib and Gurdwara Rakab Ganj Sahib in Delhi mark the places of execution of Guru's body. One of the disciples of Guru Tegh Bahadur, Lakhi Shah Vanjara, stole the corpse quietly and burned his own house to cremate his master's body.Today, at this very site stands Gurudwara Rakab Ganj Sahib.
On 11 March 1783, Sikh military leader Baghel Singh (1730–1802) marched into Delhi along with his army and granted permission from mughal emperor to raise gurudwaras on Sikh historical sites in the city. Sis Ganj was one of the shrines built by him.
Foundation of Anandpur Sahib Gurudwara
The severed head("Sis" in Hindi or Punjabi) of Guru Tegh Bahadur was brought to Anandpur Sahib by Bhai Jaita, another disciple of the Guru. Another gurudwara by the same name, Gurudwara Sisganj Sahib at Anandpur Sahib in Punjab, marks this site, where, in November 1675, the head of the martyred Guru Teg Bahadur, brought by Bhai Jaita was cremated.
At the place where Bhai Matidas was executed, there now stands in his memory the famous Fountain of Chadni Chowk, Delhi. The fountain symbolises the blood of Bhai Matidas which once oozed out from his pliant body.
The martyrdom of Guru Tegh Bahadur is remembered as the Shaheedi Divas of Guru Tegh Bahadur every year on 24 November, according to the Nanakshahi calendar.