Narendra Modi Awarded with Goalkeepers Global Goals Award 2019
on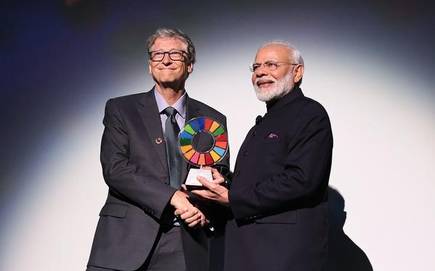 Prime Minister Narendra Modi was awarded with "Goalkeepers Global Goals Award 2019" by the "Bill and Melinda Gates Foundation". Amid protests, PM Modi received this  24 Sephonour on September, 2019 award for his "Swachh Bharat Abhiyan" launched by his government.
Microsoft founder and billionaire Bill Gates and his wife Melinda, in 2000 set up Bill & Melinda Gates Foundation, which works in areas such as poverty, health and education.  They  both are also big philanthropists, have been conferred by the highest civilian award (Padma Bhushan) 2015 under the social work category.
On receiving the award, he said "Getting the award in the year of Mahatma Gandhi's 150th birth anniversary is personally significant for me. When 130 crore people take a pledge, any challenge can be overcome," the Prime Minister said."
He further dedicated this award to the Indians and said, "people's movement" and accorded topmost priority to cleanliness in their day-to-day lives. "No such campaign was seen or heard about in any other country in the recent past. It might have been launched by our government, but people took control of it.
Cleanliness is next to Godliness
List of Awards conferred on Narendra Modi
State Honours
Order of Abdulaziz Al Saud on 3 April 2016, by Saudi Arabia
Member Special Class, The highest honour of Saudi Arabia awarded to non-Muslim dignitaries.
State Order of Ghazi Amir Amanullah Khan on 4 June 2016, by Afghanistan
The highest civilian honour of Afghanistan.
Grand Collar of the State of Palestine on 10 February 2018
The highest civilian honour of Palestine.
Order of Zaye on 4 April 2019 United Arab Emirates
The highest civilian honour of the United Arab Emirates
Order of St. Andrew 12 April, Russia
The highest civilian honour of Russia.
Order of the Distinguished Rule of Izzuddin 8 June 2019, Maldives
The highest honour of the Maldives awarded to foreign dignitaries.
King Hamad Order of the Renaissance 24 August, Bahraine
Member First Class
The third highest civilian honour of Bahrain.
Prestigious Seoul  Peace Prize 2018 for 'Modinomic by by Seol peace prize committee
The Committee recognised Modi's contributions to the growth of the Indian and global economies, crediting 'Modinomics' for reducing social and economic disparity between the rich and the poor.The Seoul Peace Prize was established in 1990 to commemorate the  success of the 24th Olympic Games held in Seoul,
Korea.
UN Champions of the Earth A 2018 Or UN Green Award
This honour was awarded  by the UN Secretary General Antonio Guterres. Prime Minister Modi was selected in the leadership category for his pioneering work in championing the International Solar Alliance, a global partnership to scale up solar energy.Sir Modi was also acknowledged  for his unprecedented pledge to eliminate all single use  plastic in India by 2022. It is the highest environmental  honour of the United Nations.This is also known as UN Green Award.
Ranks Secured by PM Modi in different Category
PM Modi bagged 9th position in the list of  the most Powerful People list released by Forbes in 2018. Chinese President Xi Jinping topped the rank list. Narender Modi is  at number 3 position in the list of most followed leader on  twitter. US President Donald Trump topped the list.