Winter Camping in the Everglades
on
Winter Camping in the Everglades
When you think of camping and boating, generally an image of warm summer days and swimming come to mind. But let's be honest—chances are that if you look out of your window right now, it's far from a warm summer day outside.
There is, however, a place in the U.S. where winter is the best time of the year to camp: The Florida Everglades are calling your name.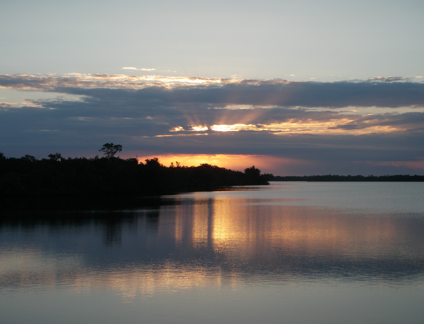 Unlike the rest of the country right now, the Florida Everglades are actually comfortable outside, and winter is the best time of the year to go out there and camp.
Generally temperatures range anywhere from the high 40s to the upper 70s from the months of November through March, which is perfect weather for camping. A large majority of the mosquitoes have also died off, so you can pitch a tent and not worry about severe blood loss.
It isn't, however, as simple as driving out there and pitching a tent. There are a few things to prepare for and keep in mind before venturing out into the 'Glades.
Before You Go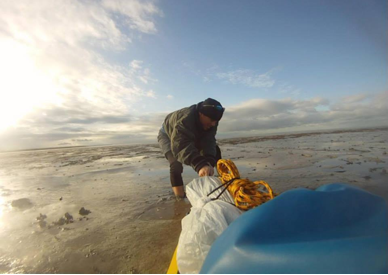 Only about 1/8 of the available campsites in the Everglades can actually be reached by foot. Another advantage of it being winter is that water levels are down so actually walking to campsites in areas like Everglades National Park or Big Cypress National Preserve is a pretty dry trek.
Try doing this in summer or fall, and you're guaranteed to be wading through knee-deep water. The other 7/8? Those campsites have to be reached by kayak or boat. Almost all of the campsites along the coast, like the Ten Thousand Islands and the southern point of Everglades National Park, must be reached by water, either by power boat or paddle craft.
Be sure to be wary of shallow water if you're bringing a boat. Most of the water out in the 'Glades is only about three or four feet deep. It's entirely possible to get stuck for upwards of six hours thanks to extreme tides.
Preparation
You're going to want to bring all of your usual camping equipment. If you're going by paddle craft or hiking, however, weight is going to be of a big concern so cut down wherever you can. If you've also decided to camp within the Ten Thousand Islands, you're going to have to bring all the water you need with you.
Sun protection is still very important, even this time of the year, so sunscreen and long sleeves/face protection are an absolute must. Weather is still just as unpredictable as ever, so rain gear as well as rope to tie down the tent are a good idea, too.
As far as navigation goes, you should always carry two different ways of navigation at all times. I prefer a map with a compass for standard navigation, and I carry a GPS as a backup.
The last thing in the world you want is to get lost out there. Finally, even though the mosquitoes have died off quite a bit, they're still a very real thing. Heavy applications of Deet and Thermacell are a good idea.
On Arrival 
One of the big kickers with camping in the Everglades is that campsites are limited to a certain amount of campers per site. This means they need to be reserved.
However, you cannot reserve campsites beyond 24 hours in advance of your trip, which really translates into reserving them when you check into the ranger station. There are stations located in Flamingo as well as Everglades City, and they have maps and information inside that can be pretty helpful as well.
The ranger will want to know where you plan to camp each night of your trip, and you'll have to reserve one for each night you plan to stay. This is obviously for safety, but also for the simple fact that some campsites only fit so many people.
In the 'Glades
It's wild out there—be sure to consistently check your bearings and location to avoid getting turned around. There are generally three different types of campsites out there: ground sites, beach sites, and chickees.
Ground sites are simple campsites on some of the sparse dry ground in the backcountry. These sites have picnic tables, a porta-john, and that's about it. Since these are usually tucked back into the mangroves, the mosquitoes can be horrendous.
You also can't have fires at these sites, so keep that in mind when considering how you're going to cook food.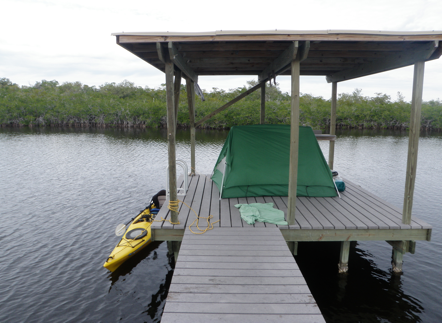 Beach sites are exactly like they sound: a campsite on a beach. But they aren't really a sandy beach with coconut palm trees on them.
The beaches are made up almost entirely of crushed shell and mangroves that are within just a few yards of some of the sites.
There are no tables at these (they'd get washed away), and there aren't usually any porta-johns (some have them, though). You're welcome to build a fire at these using the abundant driftwood that washes up.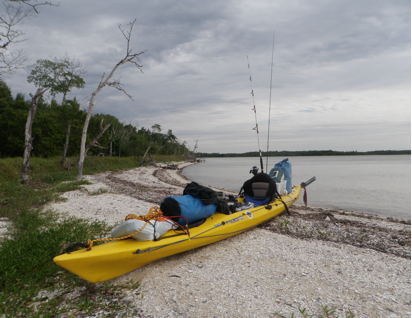 Finally there are the chickees. These are essentially raised up dock platforms that are located randomly right on the surface of the water in many of the bays and estuaries. There's a single roof on these, no walls, and enough room for your tent, a little gear, and a porta-john.
That's it. This is where the rope comes in handy to tie your tent to the dock since you can't place stakes. You obviously cannot have fires on these either, unless you really feel like having an adventure and burning the whole platform down with you on top.
The mosquitoes can be relatively bad at these, but my big thing is just comfort. Bring a sleeping pad for your tent as the dock platform isn't the most comfortable thing in the world to sleep on.
So if you've got cabin fever and are walled-in behind endless amounts of that white nightmare called snow, consider coming down to give the Everglades a try this winter. Keep these tips in mind, and you're sure to have a great experience in the 'Glades. Just don't forget the bug spray.
Biography: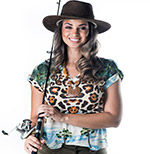 Hi, everyone! My name's Rebecca, and I just love to write and to fish! My
friends call me "Becca." I'm 22 years old, single, and am currently residing in
New York working at an office. With some free time I always give in to my
passions, and that's why I started creating blogs and a website about
fishing, its two of my most favorite things!
Follow me on twitter: https://twitter.com/rebecca_lilyAG
Email me at: rebecca.lilyangling@gmail.com
Website: http://thatfishing.com